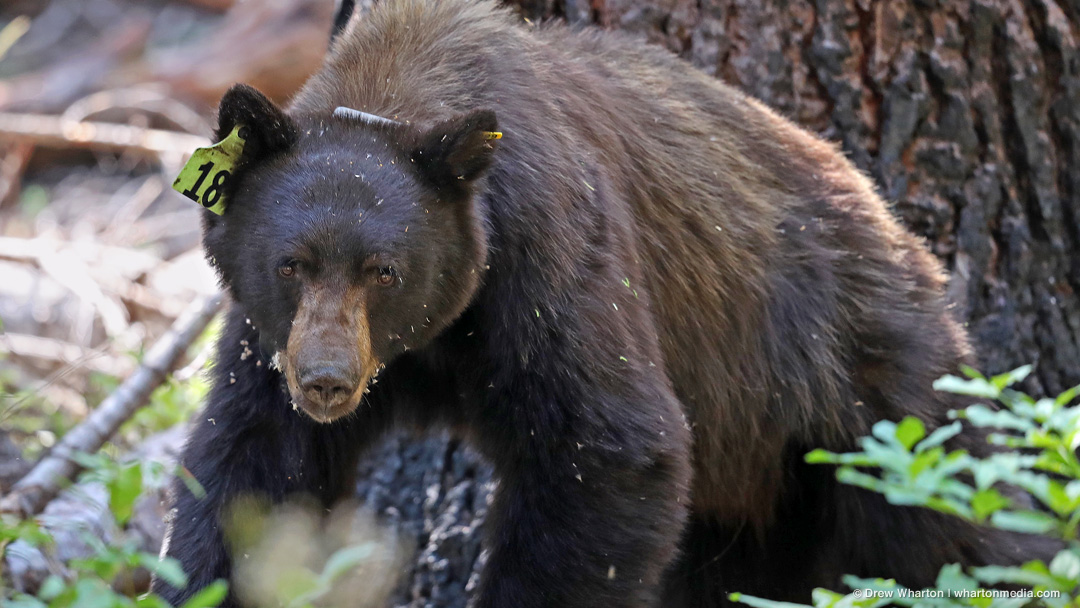 KeepBearsWild.org
KeepBearsWild.org, a collaboration of Yosemite Conservancy, Yosemite National Park and Wharton Media, is dedicated to raising awareness, appreciation and respect for Yosemite's iconic and beloved black bears. The website features the National Park Service's first-ever online bear tracker, information on ways for the public to help save bears, insight into the bear management program, fun facts about Yosemite's bears, and stunning photography and videos not before available to the public. KeepBearsWild.org also provides a call to action to drive slowly and alertly on park roads, store food properly at all times and observe bears from a safe and respectful distance.

Services: Website Design and Development, Video Production, Photography, Identity, Content Development, Web App Design, Digital Strategy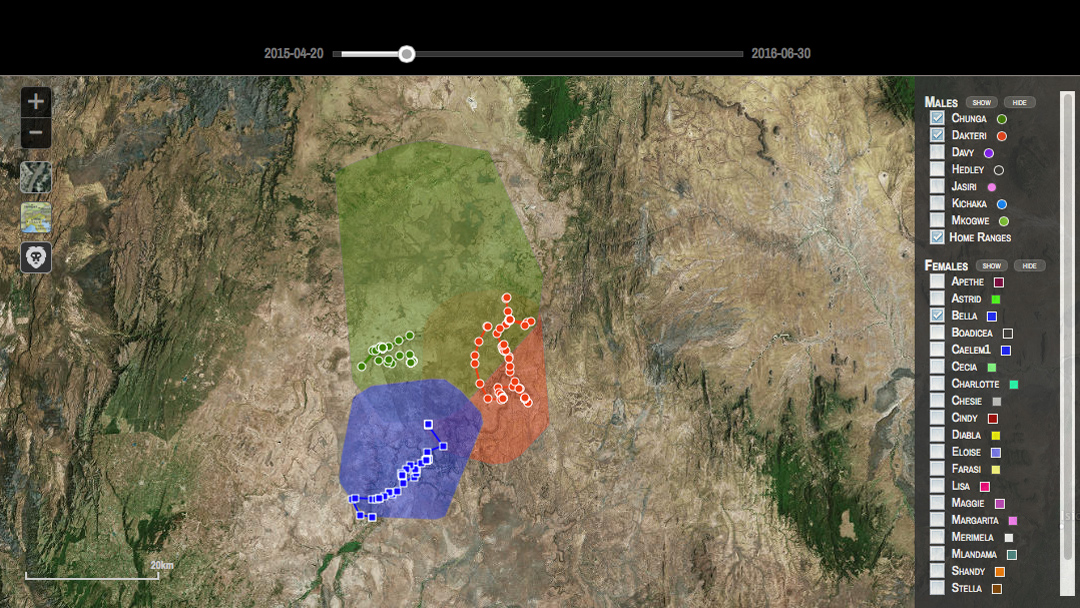 AfricanLions.org
Researchers from the University of California, Santa Cruz, Living With Lions and Ewaso Lions are conducting a new study to better understand how human activities impact the physiology and behavior of Africa's threatened lions.  The research collaboration is using state-of-the-art SMART (Species Movement, Acceleration, and Radio Tracking) wildlife collars to continuously monitor the movements and predation of a number of male coalitions and female prides in Laikipia County, Kenya.
Africanlions.org is the official education and outreach website for this research effort. In addition to stunning photography and fascinating updates from the field, one of the main interactive features of the site is Lion Tracker, a web app which displays real-time satellite tracking data so the public can remotely explore the lives of these amazing animals.

Services: Web, Video, Interactive, Digital Strategy
Seaotters.com: Inspiring Conservation through Education
Seaotters.com is dedicated to raising awareness about California's threatened sea otters and the role research plays in the species recovery and conservation. It's a collaboration of the Monterey Bay Aquarium, U.C. Santa Cruz, U.C. Davis, U.S. Geological Survey, U.S. Fish & Wildlife Service, and California Department of Fish and Wildlife, among others. Seaotters.com is also home of the world's first HD live stream of southern sea otters in the wild.

Services: Web, Video, Photo, Identity, Content Development, Web App Design, Digital Strategy
I ♥ Monterey Bay National Marine Sanctuary
Recognizing the need to better educate and inform the public about responsible wildlife viewing along the California coastline, seaotters.com and the Monterey Bay National Marine Sanctuary have teamed up to help protect marine life from disturbance by launching the 'I ♥ Monterey Bay National Marine Sanctuary' outreach campaign.
The I♥MBNMS campaign tagline is Protecting Sanctuary Wildlife One Heart at a Time. In addition to launching a dedicated outreach website and social media campaign promoting responsible wildlife viewing, Wharton Media also designed the I♥MBNMS campaign identity and stickers which are being sold throughout California's Central Coast to help raise awareness and funds for MBNMS' Team Ocean program.  TeamOCEAN's trained and knowledgeable naturalists greet and interact with fellow day kayakers, and serve as docents for the Sanctuary while promoting respectful wildlife viewing and protecting marine mammals from disturbance. Since the program's inception in 2000, TeamOCEAN staff and volunteers have interacted with nearly 100,000 kayakers, all the while preventing thousands of potential disturbances to sanctuary wildlife.
For important tips on responsible wildlife viewing, information on how to report marine mammal strandings and harassment, or to purchase or inquire about selling I♥MBNMS stickers, check out the website at mbnms.org.

Services: Web, Video, Photo, Identity, Digital Strategy
A Seal's Life: The Story of the Northern Elephant Seal
 A Seal's Life, a Wharton Media production in association with National Geographic Mission Programs, is a documentary that intimately details the life and habitat of the northern elephant seal.  Dr. Sylvia Earle, National Geographic Explorer-in-Residence and world-renowned ocean explorer and advocate, narrates this inspiring story of survival, resilience and hope.  Filming took over two years to complete and occurred at such remote locations as Año Nuevo State Reserve, California Channel Islands, Farallon Islands, Piedras Blancas, Point Reyes National Seashore and Isla de Guadalupe, Mexico.  A Seal's Life premiered at the Monterey Bay Aquarium.
Film Synopsis
For hundreds of thousands of years an extraordinary journey has taken place in the sea.  Twice a year along the west coast of North America, elephant seals set out alone on a nearly impossible roundtrip migration across the vast expanse of the North Pacific.  For months they remain at sea, swimming thousands of miles while diving relentlessly to unimaginable depths in search of food.  By journey's end they'll have traveled farther in a year than any other mammal on Earth.
From the rugged, wave-swept shorelines of Northern California to the cold dark depths of the North Pacific, this is the incredible story of one of the greatest migratory marine mammals to inhabit the sea, a remarkable creature living a life of extremes and their species' never-ending struggle for survival.
Southall Environmental Associates, Inc.
Wharton Media has partnered with SEA, Inc., an international research company that delivers science to support conservation management, to develop strategic digital media outreach assets and solutions in support of their multi-year SOCAL-BRS (Southern California Behavioral Response Study) research project off the coast of Southern California.  The overall objective of SOCAL-BRS is to measure the impacts of anthropogenic noise sources on marine mammals using acoustic tags to provide a better scientific basis for estimating risk and minimizing effects of active sonar for the U.S. Navy and regulatory agencies.
Dr. Brandon Southall, President and Senior Scientist for SEA, Inc., is a research associate with the University of California, Santa Cruz and past director of NOAA's Ocean Acoustics Program. He is currently involved in research to measure behavioral responses of marine mammals to various human sounds, primarily military sonar signals, the effects of impulsive noise on hearing in seals and sea lions in laboratory settings, and efforts to implement quieting technologies on the largest commercial ships in the oceans, and developing environmentally-responsible ways of capturing offshore energy.
Living in a Sea of Sounds  is a great piece on how Dr. Southall and his research colleagues use acoustic tags to study a marine mammal's response to sound.

Services: Web, Video, Photo, Digital Strategy
Santa Cruz Puma Project
With most large predators now in decline worldwide, a University of California, Santa Cruz research project is now underway to better understand their physiology, behavior and ecology so as to better inform their management and conservation. Santacruzpumas.org is the official education and outreach website for this research effort.
The study, which combines mathematical models with rigorous field studies, involves deploying telemetry collars on mountain lions that collect continuous movement and location data from each animal. By studying and analyzing data collected from these collars, Dr. Chris Wilmers and his team hope to answer important physiological and ecological questions that have so far evaded science. In addition to providing solutions to pressing environmental problems, the research project will further enhance the understanding of cougar habitat requirements as well as provide guidance on important movement corridors for lions within and between the Santa Cruz Mountains located in the central coast of California.

Services: Web, Video, Photo, Web App Design, Digital Strategy
Pinniped Cognition & Sensory Systems Lab, UC Santa Cruz
Since our inception, Wharton Media has maintained a long-standing commitment in supporting the education and research communities through the development of strategic digital media outreach solutions.  One of our most favorite labs we work with at UCSC is the Pinniped Cognition and Sensory Systems Lab (watch the video and you'll find out why).  Since 1994, the lab has been focused primarily on hearing and the effects of noise on pinnipeds. The main impetus for this work has been a growing concern about increasing levels of noise in the oceans, from sources including shipping, ocean exploration, and military operations.  Noise pollution can alter the behavior of animals, interfere with their acoustic communication and their ability to respond to threats, and at high levels, can even produce temporary or permanent hearing loss.  In 2007, the lab began an investigation into the bioacoustics of the southern sea otter.  The Pinniped Cognition and Sensory Systems Lab was the first to ever conduct audiometric research with sea otters.

Services: Web, Video, Photo